02 Feb

Mongolia – An Offroading Paradise

Mongolia is one of the most pristine countries for offroad traveling. During these times, Mongolia is not allowing tourists, but once all the dust settles, there will be plenty of time to travel to Mongolia. If you plan on offroading, hiking, and trekking through the countryside, you need to prepared for the elements.
Bring Warm Clothes
Most likely you will visit during the summer, but still, you will need warm clothes because the climate of Mongolia can go back and forth between hot and cold during the summer. It is recommended that you bring a jacket, a sweater, but also shorts, t-shirt. Normally clothes that are fit for all seasons would be best.
Large Enough Backpack
Because you will be traveling around the countryside where you won't be able to find decent shops or malls, you need to come prepared with your gear. Binoculars, maps, flashlight, anything you will need during your offroading experience.
There are plenty of websites online which you can find for resources and tips for what is recommended and what equipment is best. Try this evatac backpack and such for this trip.
What Cars Are Best?
Mongolia's infrastructure is very limited, so you will mostly be driving on dirt roads, sometimes you will even be making your own path because depending on the weather rivers, and roads might get blocked or is not suitable to drive, so it's very likely you will be going through endless plains and steppes.
Having a guide and driver who knows the local landscape is important, otherwise, driving by yourself, you can easily get lost away from help and civilization.
The best cars nonetheless are Land Cruiser Toyota, and maybe old Russian soviet cars that some nomads and Mongolians still drive to this day. Don't expect a smooth ride, because the dirt roads are going to be bumpy as well, so it's going to be exciting and fun, just keep an open mind.
Mongolian Hospitality
You might come across nomads and Mongolians who live out in the countryside in the middle of nowhere. They are usually always happy to have guests over and will feed and even give you place to sleep if you need it. Mongolians are very generous and hospitable people, especially out in the countryside away from the cities.
The capital city Ulaanbaatar is not that interesting as the real beauty of the country lies out in the countryside. The cities are Soviet and modern in feel. It's like any other cities that you will find in the world. A few days will suffice if you are visiting the capital and some bigger cities like Darkhan and Erdenet.
Hardy Food and People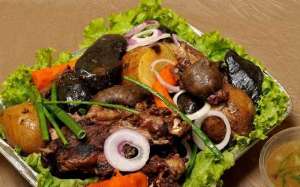 A lot of Mongolians still without modern day comforts such as hot water or luxury style living, and that is appeal that it has for many people. You are in a way going back to how life used to be a lot simpler and straightforward.
The food and diet that Mongolians have are very hardy and tough in nature. The people are used to the harsh climate and weather so if they see you whining or making a fuss about small things, they might laugh at you since it's a pretty normal sight for them.
Mongolian food is very heavy in protein and fats, so if you are vegan or vegetarian, then it will be very hard and difficult for you to make such a trek.
But at the end of the day, it's a full experience that you should have once in a lifetime.
If you are looking for a tour agency, our freight company is partnered with local agencies in Mongolia, so feel free to reach out to us for more information.